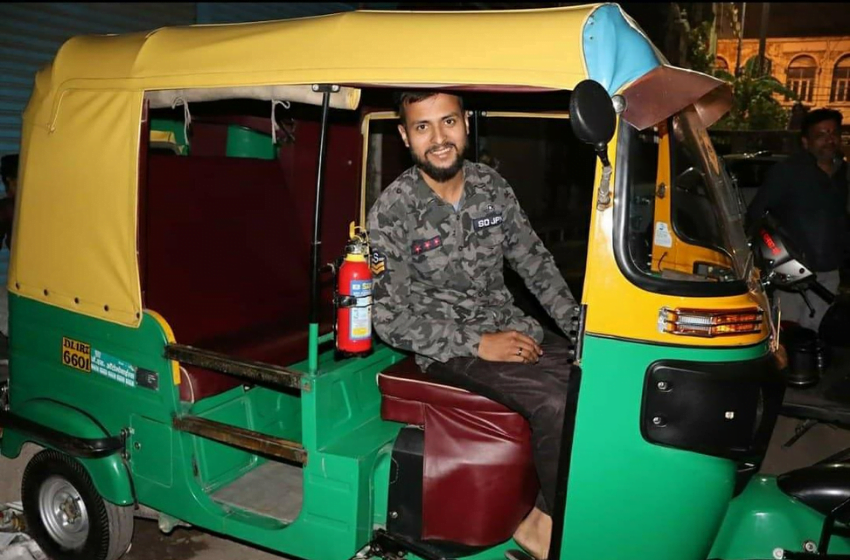 Of the many smiles restored, one such story is of Mohd Sakib. This gentleman who had his auto rickshaw burnt in the Northeast Delhi pogrom came knocking our doors with a bleak smile and a lot more of dismay on his face. Sakib had lost his only source of income with almost nothing in savings. Life had never been this uncertain for him. A father of two beautiful kids, four years old daughter, Nabiya and a two years old son, Arham. Mohd Sakib lives in Mustafabad and had his auto rickshaw parked at a parking space in Shiv Vihar where with other vehicles his auto was also burnt to ashes.
When he first came to us, he had very less hope of getting life back on track. He was standing outside the doors just hoping he would get some ration. After a while, one of our team members brought him in and we noted down his grievances. His auto rickshaw was burnt and he even had a few installment payment pending. He had no money left and was surviving on the ration distributed by various relief agencies. His other immediate needs were addressed including settling him in one of our rented accommodations with all the basic essentials and we asked him to our relief center the next morning.
Next day he appeared on time. A team member was sent along with him to purchase a brand-new auto of him. He requested us to just pay the down payment and he'll be paying the remaining installments himself with the money he'll be earning in coming days. After the immense trouble he had been through in the past two weeks, with the support of our amazing team, we were able to restore a precious smile. The smile on his face after getting the auto was pure and very precious for us. Since then, Sakib has been helping us with the relief work and is one of our most active volunteers.