Recently, during the Mahavir Akhara Rally in Barharia, Siwan, Hindu radicals launched a series of attacks on Muslim homes and businesses. We are raising this fund to help four victims who we have found to be the worst affected. Though the violence got some coverage in the media, not many know about the aftermath. The four victims who need our assistance have lost their businesses which served as their sole source of earning a living. They come from lower- to middle-class families. The sudden disruption of sources of their livelihood has made situations unbearable for their families.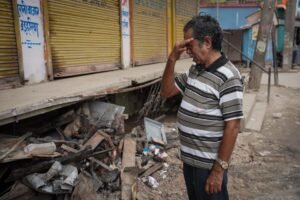 Miles2smile wants to lend a helping hand to all the four distressed families whose livelihoods have been severely harmed at the hands of violent Hindu mobs.
The goal of this fundraiser is to disburse 4 lakhs to the four victims so that they can rebuild their businesses. Your generous contribution will help us achieve that goal. Let's contribute whatever we can for the cause.
Name of the Victims:
Sarwar
Amir Alam
Shabbir Quraishi
Nasiruddin
Thank you to all our donors, we have met our fundraising goal.