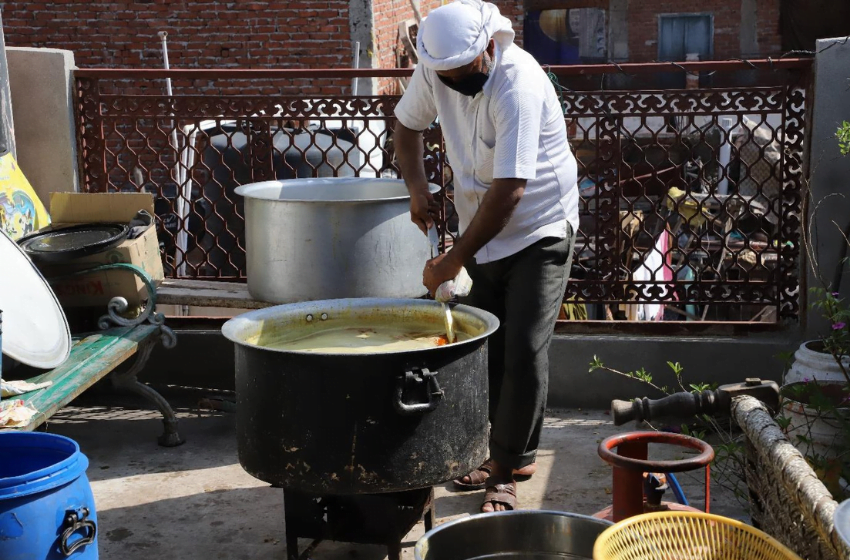 Mumtayaz a resident of Mustafabad owned a thela (cart) and used to sell fruits on it. During the Delhi pogrom, in a sheer display of inhumanity, the Hindutva mob brutally attacked him on the head with sharp weapons, looted fruits worth thousands and later burnt his cart.
While our team was conducting relief operations in the area, we chanced upon Mumtayaz who's skull was cracked open and he was bleeding excessively (profusely). We picked him up and took him to our medical camp immediately. Our team members cleaned his wound, applied ointment and redressed the wound. After providing first aid, we shifted him to a hospital for proper treatment and paid for the hospital bills.
Soon, there was a nationwide lockdown, announced by the Government. For the Pogrom survivors of North East Delhi, it was another big trouble for them. All their savings were destroyed during the violence and the suddenly announced lockdown gave them no time to prepare. For these distressed families, we started a "Smile Kitchen" in Northeast Delhi and provided cooked meals to more than two thousand displaced families on a daily basis. Mumtayaz visited our kitchen and wished to helped us in the relief effort. Since he knew cooking, we employed him as the head cook and paid him daily renumerations.
During the relief operations, we also helped a couple of carpenters to procure tools and raw materials. The carpenters in turn built Mumtayaz a customized chowmien cart. Now, Mumtayaz owns his own Chowmien Corner and sells the tastiest Chowmien in the whole of Mustafabad. Miles2Smile also supported his daughter's marriage in September 2021. Mumtayaz's story is one of human kindness that is bound to rekindle your faith in humanity.